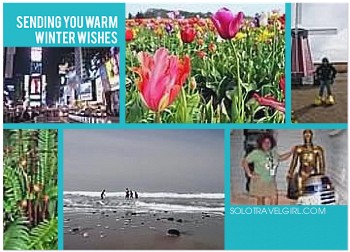 Pictures In Blue Christmas Card
A friend is known for sending her Christmas cards the day after Thanksgiving. Although I haven't made it to the mailbox yet, here is an electronic image of this year's holiday greeting card. It's difficult to encapsulate a year's worth of travel onto one card but think you get the idea.
Thank you for reading opens in a new windowSoloTravelGirl.com and wishing everyone happy solo travels in 2011.
Disclosure: I'm participating in a opens in a new windowShutterfly.com promotion and may receive product from their site in exchange for sharing this card. Honestly, I'm a big Shutterfly fan and have ordered a couple of photo books and the opens in a new windowWink photo strips and have been pleased.